Greenhouse Gas Accounting: a challenge with genuine benefits
21.06.2023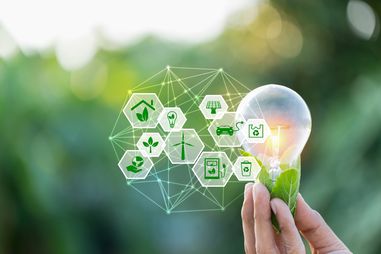 Greenhouse gas accounting is a critical challenge for fleets, demanding a robust reporting process that will soon influence almost every company's car-related decision.
1. Is greenhouse gas (GHG) accounting compulsory?
Yes and no. The European Union's Corporate Sustainability Reporting Directive, unveiled in 2022, likely to be adopted by the EU Commission in June 2023, and then to be converted into Member State legislation in 2024, will force larger companies to report their impact on the environment from 2025.
This will apply to an estimated 49,000 companies that meet at least two of these three criteria:
-           €40 million in net turnover;
-           €20 million on the balance sheet;
-           250 or more employees.
Already, more than 90% of Fortune 500 companies use the standards set by the Greenhouse Gas Protocol (ghgprotocol.org).
2. How does GHG accounting impact fleets?
Heavily. To comply with GHG accounting, a fleet needs a database that records and reports important details of every vehicle in each country in which it operates.
This vehicle information includes:
-           how it is funded (purchase, finance lease, operational lease, etc.);
-           its fuel type;
-           its WLTP emissions of three greenhouse gases - carbon dioxide, methane, and nitrous oxide.
3. Can a fleet convert its fuel use into GHG emissions?
Yes. Fuel data can provide an alternative source for calculating emissions, with figures available for the greenhouse gases produced by burning 1 litre of petrol, diesel, biodiesel, bioethanol, and compressed natural gas.
However, to use these figures accurately requires a more detailed breakdown of journeys.
Businesses need a reliable reporting tool for vehicle utilisation, and to ask employees to itemise how many kilometres they drive for business, commuting, and privately. Extensive experience shows that relying on employees alone to provide this information does not lead to sufficiently robust data.
4. What are Scope 1, 2, and 3 emissions?
The basis for GHG reporting are three scopes, that refer to three categories of emissions.
-           Scope 1 refers to the greenhouse gas emissions that a company makes directly, such as the fuel used by its vehicles.
-           Scope 2 are categorised as indirect emissions, and arise from the consumption of electricity purchased by a business, including power to recharge electric cars.
-           Scope 3 covers the emissions of both upstream raw materials and products that a company buys, as well as the downstream emissions of the products it manufactures. Emissions from commuting and business travel also fall into Scope 3. According to the Energy Advice Hub, Scope 3 emissions account for somewhere between 80% and 97% of total emissions for a large business.
Scope 1 and 2 emissions have to be reported today by large companies, and Scope 3 from 2025, although companies with a genuine determination to achieve net zero status have to start measuring their Scope 3 emissions now in order to understand their full impact on climate change.
5. How do businesses account for commuting?
Work-in-progress. Travel to and from work is considered a service that allows a business to operate and therefore counts towards Scope 3 emissions. This covers employees using both company cars and their own private cars, as well as bus and train transport.
Today, there are no existing 'certified' criteria to measure Scope 3 emissions due to their extreme diversity. Fleet Logistics advises our clients, as a first step, to establish a baseline based on a set of common-sense assumptions for the criteria that they would like to apply.
These assumptions can then be benchmarked against other similar fleets, both within and outside the same industry, to identify gaps in the available data, before going live.
This approach may not sound reassuring, but a policy of "assume-compare-test" offers a viable solution until it becomes mandatory to account for commuting emissions in 2025. As an industry expert, Fleet Logistics has tried and tested experience of successful reporting methodologies.
6. How can a fleet build a business case for lower-emission vehicles?
By avoiding demagogy. In the real world, reducing emissions typically involves accepting higher costs. 
The investment required to install workplace chargers and provide grants for employees to install wall boxes at home allied to the fact that in many countries electric vehicles are more expensive to acquire or lease will paint an Edvard Munch-type scream on the faces of fleet, finance, and procurement teams.
Companies have to accept that in the first few years, electrification will increase their fleet costs.
This budget friction will bring fleet category spend under the microscope, so it is vital for fleet managers to arm themselves with evidence that proves electrification is essential to deliver an organisation's wider emission commitments.
In fact, corporate sustainability goals provide smart fleet managers with a lever (that they may never have had before) to negotiate internally for better reporting solutions. Seizing this opportunity is extremely important, and Fleet Logistics can guide our customers through the process of building a business case for investment in better reporting.
7. Can fleet managers rely on software to report emissions?
No. Reporting is a process, with more implications than a standalone tool can satisfy. Even if you can't access accurate data on kilometres driven, there is no excuse for procrastination in the hope that science fiction-type AI systems will soon come to your rescue.
Fleet managers need to meet the requirements of the carbon reduction challenge by upgrading three fundamentals simultaneously:
-           Reporting tools;
-           Reporting processes;
-           Reporting advice.
Ideally, fleets will:
-           Outsource low-value data collection processes to a third party;
-           Ensure high-value advice from experts is always at hand;
-           Use professional tools that avoid the astronomical costs of in-house IT development.
Be ready for 2025, act now.
This is where Fleet Logistics can provide essential support, delivering all three services in a one-stop-shop solution.
Our Fleet-Bi tool collects and organises clients' global data to create a clear, coherent baseline of today's emission performance. We can then offer expert advice on the optimum strategy to reach your corporate target and provide a reliable timeline for shrinking emissions, based on a coherent new vehicle replacement cycle that transitions fossil fuel cars to battery electric models.
This all-encompassing solution is far more than a simple tool. It provides a comprehensive, deployable process that leads fleets along a clear path to meet their emissions targets by the end of the decade.